---
PJGrady Stainless Door Sills - bozzzydmc - 11 Jan 2007

Im sure some of you have seen these before but i thought i would show you these which i purchased through PJGrady UK, I finally got round to fitting these today.

These come with preapplied 'super sticky' tape and fit perfectly into the door sills recess , more info at :-

http://pjgrady.com/stainlessmain.asp

DMC Step Plate Negative Full Outline Logo (pair) .048 Gauge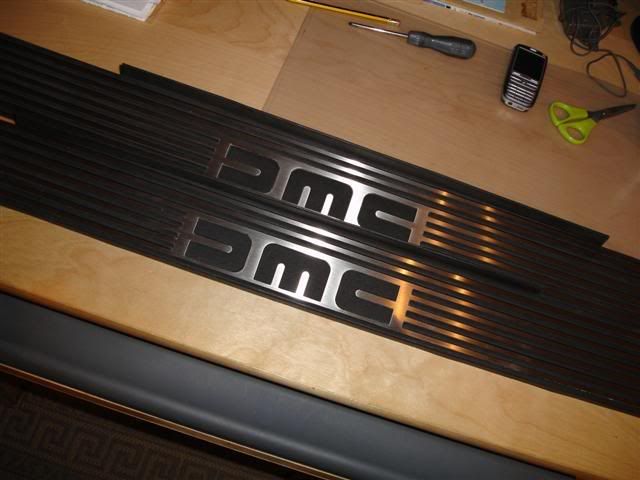 Took my time to clean up the sills back to the plastic with some metholated spirit and warmed the sill and tape up with a hair dryer first.

Looking forward to popping these back on tomorrow night when the tape has 'cured'


---
- Guinney1971 - 11 Jan 2007

they look really nice mate......... i've got the stainless 'DMC' letters, but they are easy to knock off unless you use something like tiger seal (where's Rich? :lol: )

Flopsy has drill holes in her sills, so it would be nice to hide them.

Cheers

Claire


---
- Tourettes Tony - 11 Jan 2007

yeah i think they look good Like i may even treat my car to some
TT


---
- bozzzydmc - 12 Jan 2007


Claire Usher Wrote:Flopsy has drill holes in her sills, so it would be nice to hide them.

Cheers

Claire

I will take a pic of the 'underside' of the door sills, i have a theory as to why some sills are screwed down , I think its to do with the design of the clips on the rear, my drivers one was missing a few of these and so was held down with 4" coach bolts ( well ok they were a lot smaller but might of well have been by the standards of the monkey that did them ) Dave Howarth still has some new OEM ones BTW and it became apparent that the clips on the 'later' sills are redesigned and beefier than the ones on #2001, im betting that Flopsy has the same sort of clips and hence your sills are screwed down also.


---
- bozzzydmc - 12 Jan 2007


Tourettes Tony Wrote:yeah i think they look good Like i may even treat my car to some
TT


Yes she deserves it, especially after all the threats of you selling her on

---
- Chris Hawes - 12 Jan 2007

Happy New Year All!

Claire, glad to hear that you and your Cav that you have been working so hard on are on the mend!

The screws are down the gaps aren't they? If so they will still be visible when you install you spangly new Stainless Steel trim on the raised parts of the moulding?


---
- bozzzydmc - 12 Jan 2007

Yes the screws are down the gaps, that is where the stainless trim also goes ie: in the recess.


---
- Tourettes Tony - 12 Jan 2007


bozzzydmc Wrote:

Tourettes Tony Wrote:yeah i think they look good Like i may even treat my car to some
TT



Yes she deserves it, especially after all the threats of you selling her on
I know im a sod but i went out in a 1978 ferrari 308 GTB today and what a car, but im kicking my self now as i was offered a drive and declined because i knew i would want it bad (not the maintainance costs though)and i cant sell my de cos i love her :lol: TT


---